Skip to Main Content
It looks like you're using Internet Explorer 11 or older. This website works best with modern browsers such as the latest versions of Chrome, Firefox, Safari, and Edge. If you continue with this browser, you may see unexpected results.
Finding books and journal articles
Extra booklist (for manditory & advised see tab "Booklist")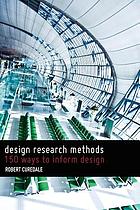 Books
Social research methods

by

ISBN: 9780199689453

Publication Date: 2016-02-03

This introduction to social research methods provides students and researchers with unrivalled coverage of both quantitative and qualitative methods.

Concept code

by

ISBN: 9789063694326

Publication Date: 2016-11-22

Conceptual thinking involves adding vision to a product, service, or organisation. Content is key, as this determines the coherence of the concept. Consumers want to experience every aspect of the concept.
This is a practical guide to effectively improve ideas, policies, products, and services. Ideal for all professionals in any field of industry and governmental organisation.

Spreadable media

by

ISBN: 9780814743508

Publication Date: 2013-01-21

Spreadable Media maps fundamental changes taking place in our contemporary media environment, a space where corporations no longer tightly control media distribution and many of us are directly involved in the circulation of content.

Persuasion: Recepetion and responsibility

by

ISBN: 9781133490531

Publication Date: 2012-02

This text aims to help students become consumers of persuasion. It presents persuasion through the examination of various aspects of popular culture - politics, mass media, advertising, and the information superhighway - as they exemplify and teach critical theories of persuasion.

Basisboek crossmedia concepting

by

ISBN: 9789059317956

Publication Date: 2012

Basisboek crossmedia concepting geeft een eerste aanzet tot crossmediale theorievorming. Uitgebreid aan de orde komen de speerpunten van het crossmediaconcept: storytelling, usability, cocreatie, mediumspecificiteit en relevantie. De tweede druk biedt de lezer meer handvatten bij het verzamelen van insights en meer verdieping op transmedia storytelling door een uitgebreide en vernieuwde casuïstiek. Met veel casestudy's

Communication theories: Origins, methods, and uses in the Mass Media

by

ISBN: 9781292042855

Publication Date: 2013, 5th ed.

Communication Theories addresses the ongoing changes in the mass communication field and the new developments in mass communication theory that are occurring as we move into the new millennium.The book is firmly based in the scientific approach-with its emphasis on observation, evidence, logic, and hypothesis testing

Media effects research

by

ISBN: 9781305077478

Publication Date: 2015-01-01

This book provides an introduction for students studying mass media's effects on society. Through an engaging narrative style, the author presents fascinating research findings on media's impact and related mass media theories. Students are provided with a clear perspective of the relationship between science, methods, and practical questions about the effects of mass media.

Design research methods

by

ISBN: 9780988236257

Publication Date: 2013-01-01

This book provides quick and practical research techniques that you can use to inform design. You will be introduced to essential research techniques such as affinity diagrams so that you can successfully base your design directions on user-centered evidence to get client buy-in.

Writing for Visual Media

by

ISBN: 9780415815857

Publication Date: 2014-04-28

This book enables you to understand the nature of visual writing that lies behind the content of all visual media. It strengthens the method for creating content and writing in the correct language and established format for each visual medium, including commercial communication such as ads and PSAs, corporate communications, and training. An extended investigation into dramatic theory and how entertainment narrative works is illustrated by examples and detailed analysis of scenes, scripts and storylines, designed to save writers from typical pitfalls and releasing your creative powers of invention
Journal articles
Recommended
Macnamara, J. (2005). Media content analysis: Its uses, benefits and best practice methodology. Asia Pacific Public Relations Journal, 6(1), 1– 34. Retrieved on August 8, 2018, from https://amecorg.com/wp-content/uploads/2011/10/Media-Content-Analysis-Paper.pdf

Ashley, C., & Tuten, T. (2015). Creative strategies in social media marketing: An exploratory study of branded social content and consumer engagement. Psychology & Marketing, 32(1), 15-27. doi:10.1002/mar.20761 (Find the full text in the Business Source Complete database or the Communication and Mass Media Complete database).

Harms, B., Bijmolt, T. H., & Hoekstra, J. C. (2017). Digital native advertising: Practitioner perspectives and a research agenda. Journal of Interactive Advertising, 17(2), 80-91. doi:10.1080/15252019.2017.1357513

Woodside, A.G.,Sood, SCMiller, K.E.When consumers and brands talk: Storytelling theory and research. Psychology & Marketing, 25(2),97-145. (Find the full text in the Business Source Complete database or the Communication and Mass Media Complete database).
Journals
Media Theory is an independent, online and open access journal of peer-reviewed, theoretical interventions into all aspects of media and communications. International and interdisciplinary in scope, the editors encourage submissions that critically engage with the theoretical frameworks and concepts that tend to be taken for granted in national or disciplinary perspectives.
The full text articles of this peer-reviewed journal are available here
New Media & Society engages in critical discussions of the key issues arising from the scale and speed of new media development, drawing on a wide range of disciplinary perspectives and on both theoretical and empirical research. Topics to be covered include: digitalization and convergence; interactivity and virtuality; consumption and citizenship; innovation, regulation and control; the cultures of the Internet; patterns and inequalities of use; community and identity in electronic space; time and space in global culture and everyday life; the politics of cyberspace.
The full text articles of this peer-reviewed journal are available in the database Sage Premier
The International Journal of Communication is an online, multi-media, interdisciplinary journal that, while centered in communication, is open and welcoming to contributions from the many disciplines and approaches that meet at the crossroads that is communication study. We are interested in scholarship that crosses disciplinary lines and speaks to readers from a range of theoretical and methodological perspectives and committed to excellence in communication scholarship, journalism, media research, and application. Peer-reviewed. Full text articles of this journal can be found on the website of IJOC and in the full text database Communication and Mass Media Complete